Spark Creativity and Raise Funds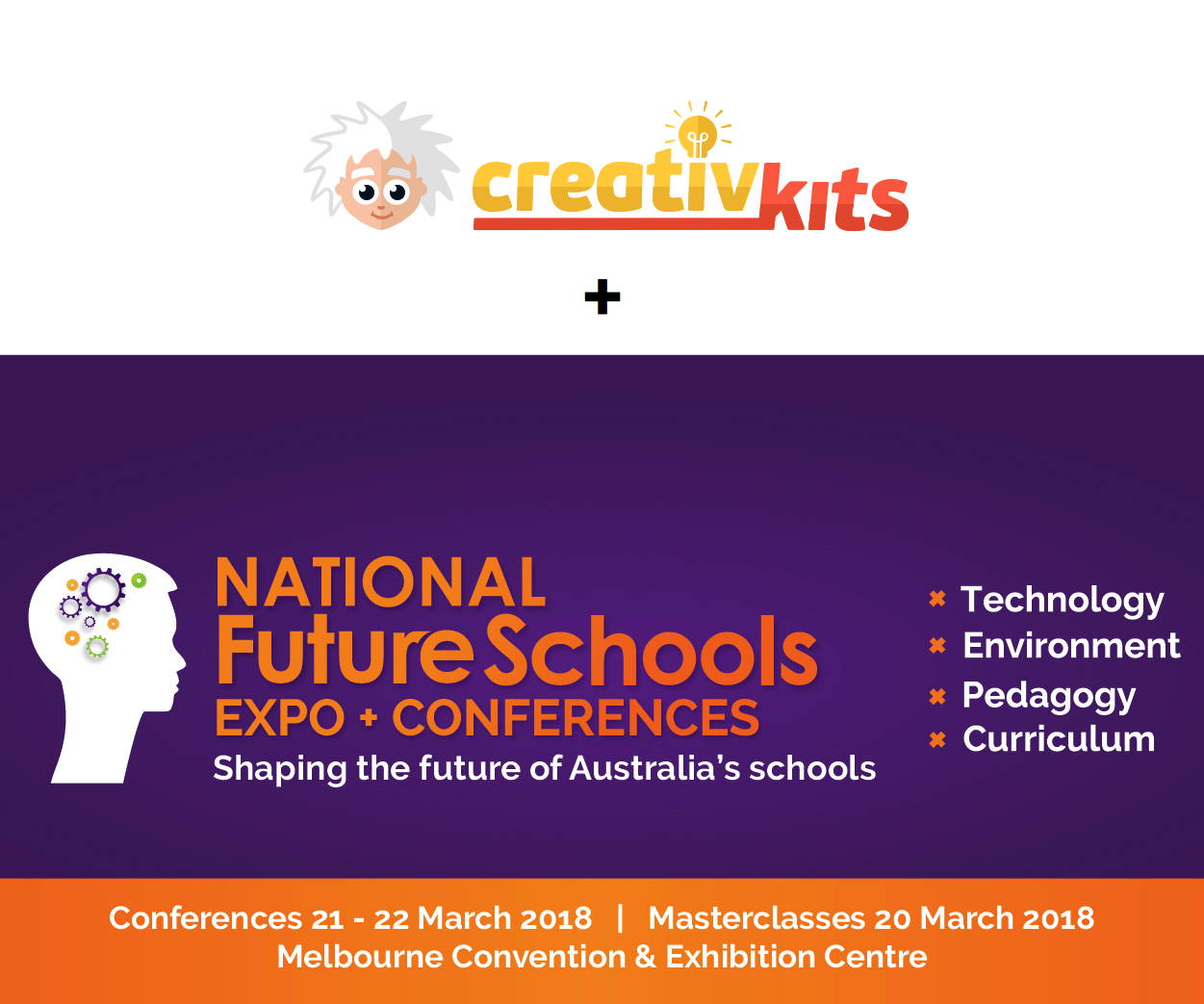 Do you want to spark creativity amongst your students and also raise funds for your School at the same time? CreativKits have combined these two aspects through a simple and effective solution. Submit this quick pre-registration form below to receive a FREE poster which allows you to raise funds for your school, while spreading the word of Creativity.
  Pre-register for a FREE CreativKits fundraising poster by submitting the form below, collect a personalised poster printed for your school at the National Future School's exhibition at Melbourne on 21-22 Mar and stick that poster at your school where it receives ample attention from parents and visitors.
When someone makes a purchase using the unique code on this poster, we will pay 25% of the total purchase to your school account. It's that simple!
How CreativKits spark Creativity?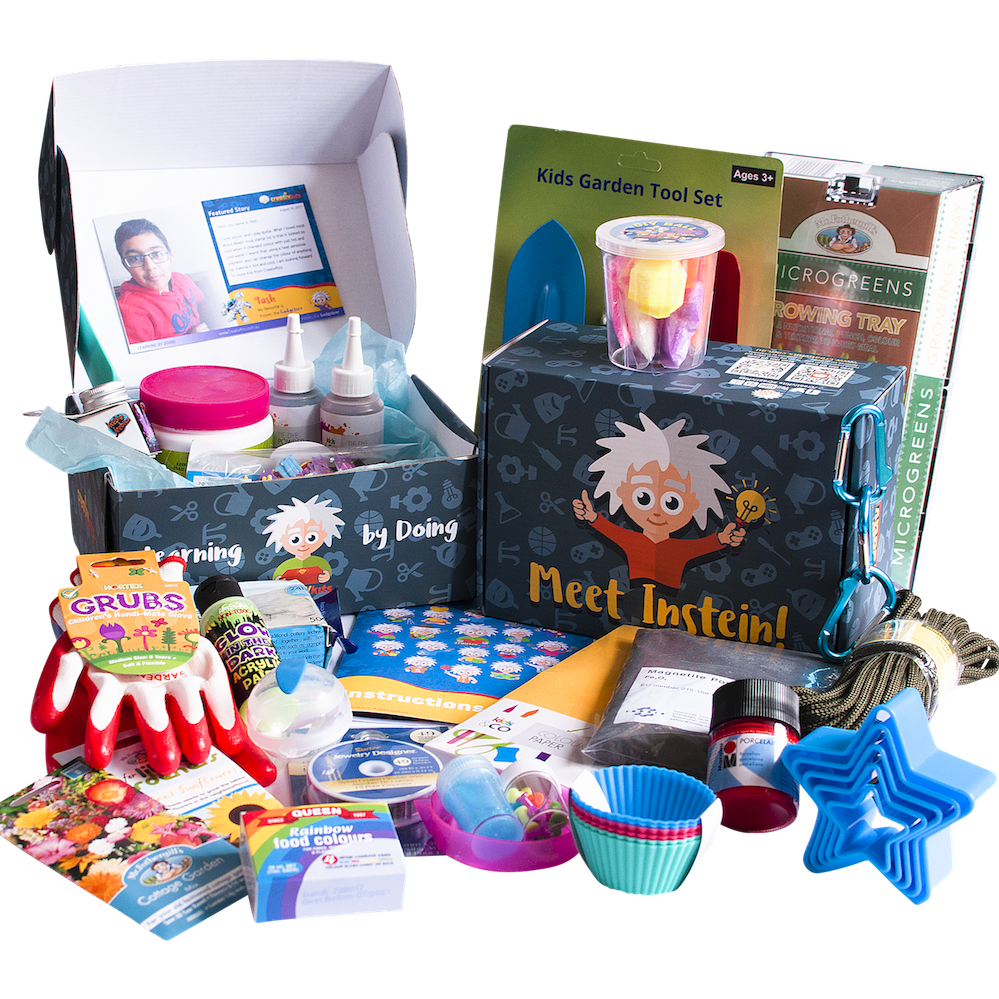 CreativKits is an Australian owned and operated subscription-based business. Parents and Care-givers of children 5-15 yrs old, enrols to this service and receive fun-learning DIY activities delivered to their home, every month. While enrolling their children, they can specify their child's Age, Interest Areas and Number of Activities they want to receive every month. The kits are great for birthday presents, weekend investigations or just some school holiday fun.
You can find more information about CreativKits' offerings by clicking the button below.
How CreativKits help your school raise funds?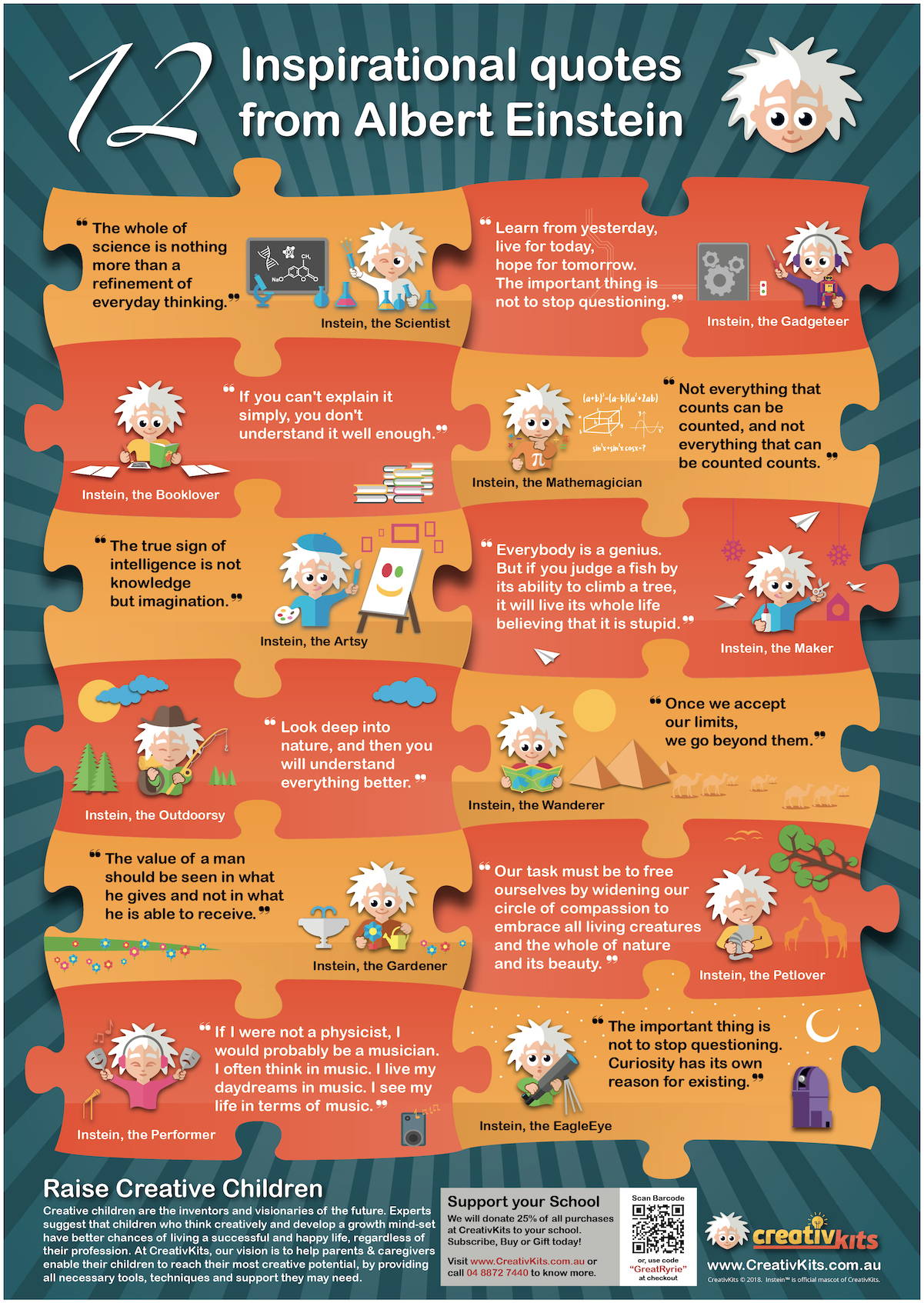 CreativKits will donate 25% of all purchases made to your school. It's that simple!
To make this happen, we have designed an attractive poster with Albert Einstein's famous quotes for you to stick on a wall or a noticeboard. It goes without saying that the location of this poster should receive a lot of attention from parents and caregivers. A unique school-specific code and link on this poster will help us track the source of a new purchase. If the order links back to the unique code of your school, funds will be transferred to your school's account within 4 weeks.
To monitor how much you earned through CreativKits, we will provide you a unique login page and will send you periodic notifications.
Where to pick your FREE poster?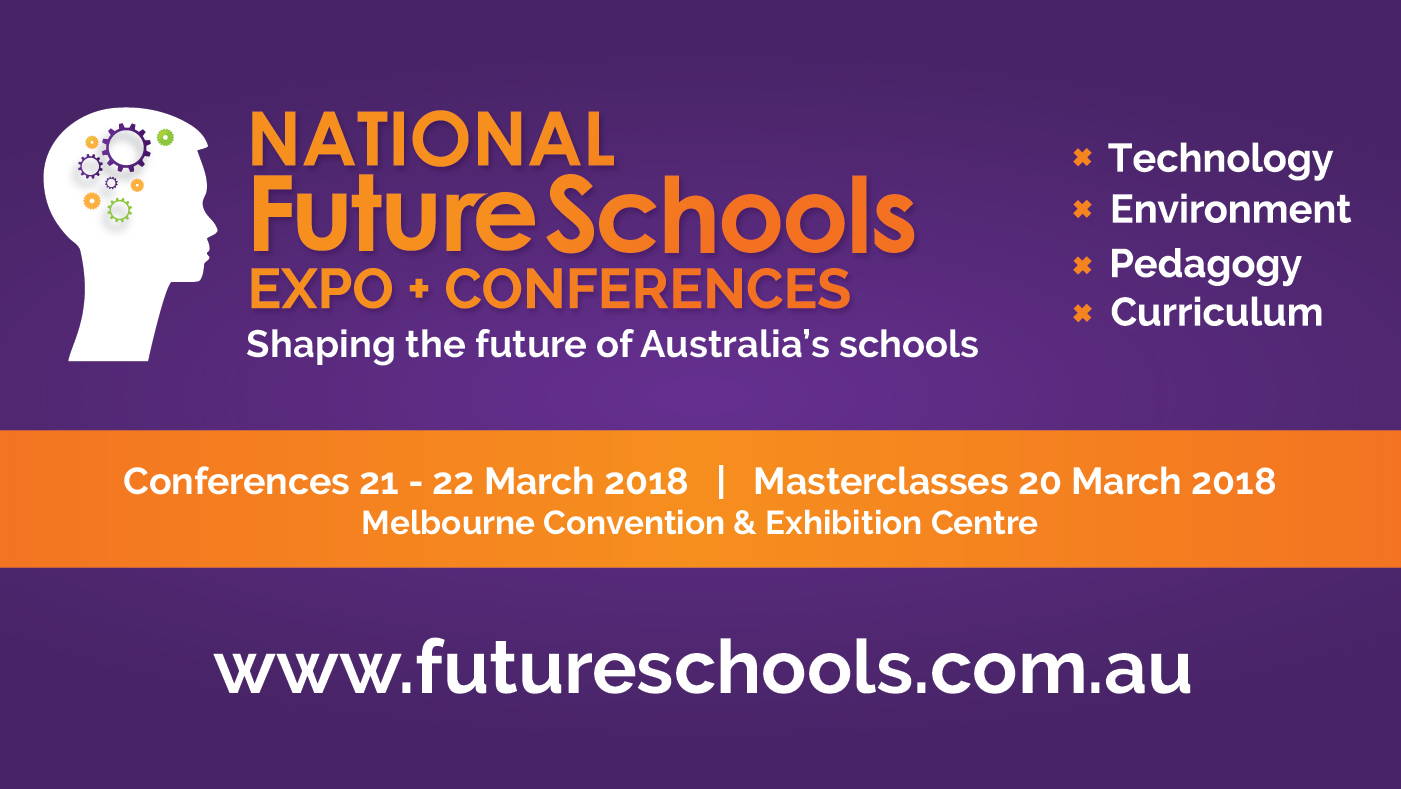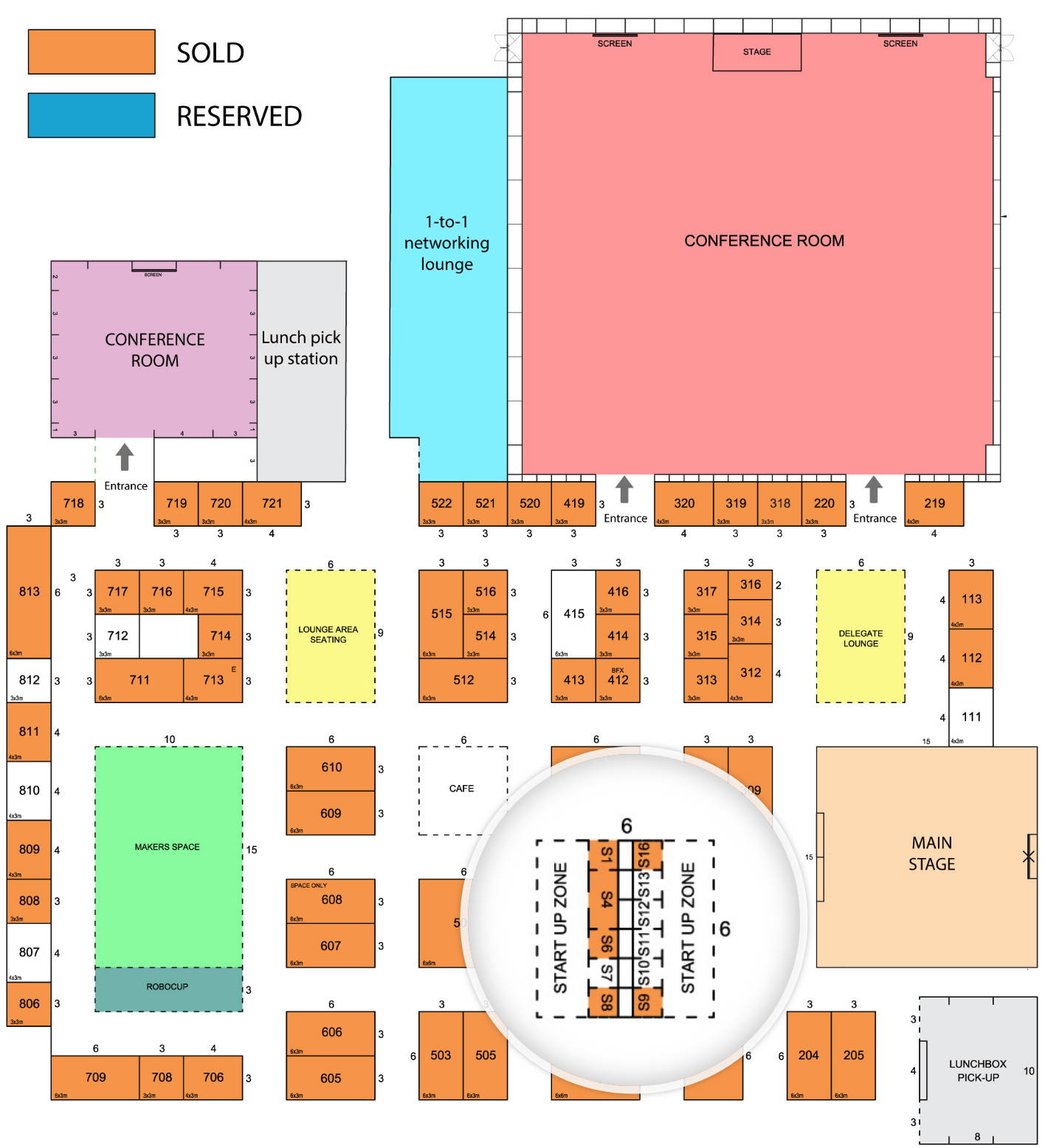 CreativKits is exhibiting at National Future Schools Expo and Conference at Melbourne Convention & Exhibition Centre on 21 - 22 March 2018. You will find us at Startup Pod "S6". Please find the floor plan Here.
If you have pre-registered on this page in advance, we guarantee your FREE poster but if not, we can give you a poster based on availability.
Haven't booked your FREE ticket to Future Schools Exhibition? Using the button below, you can book a free ticket to the exhibition and get discounted tickets to attend the conference. Book NOW, limited time offer only!
Everybody Wins, Everyone Gains!
With this simple approach CreativKits is trying to create a Win-Win preposition for everyone. Hope you are on-board!
Children who receives CreativKits are consistently engaged in fun-learning activities month after month
Parents and Caregivers of these children are able to keep their kids busy and away from electronics in a cost-effective way
When children are engaged at home, Teachers are able to foster creativity within their classes more effectively
Schools are able to raise much needed funds for their growing infrastructure and facilities needs
CreativKits is able to achieve their vision of spreading the word of Creativity to every corner of Australia.